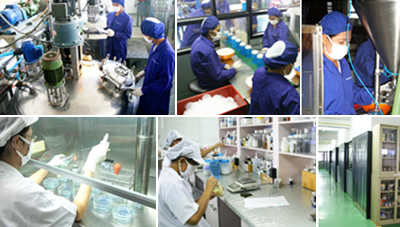 Thai-Meko Co.,Ltd. has been established since 1957 on purpose to produce high quality Cosmetic Products addressing finess, delicacy, hygiene and sanitation meeting the international standard with the competitive and reasonable price.
With more than 50 years of experience, we specialize in hair cosmetics and skin care products which have been distributed to domestic market and export to 33 countries through Africa, Middle East, Pacific Ocean and Asia region in good reputation in terms of quality and reasonable price.
Our Production are under GMP and all our products are registered and approved from FDA, Ministry of Health. We are also a member of Exporter Lists recommended by Ministry of Commerce and approved to use "Thailand Trust Mark" (TTM) which fine selected from more than twenty thousand factories in Thailand.
---
Our Product Lines and Services for OEM / Private Labeling / Contract Manufacturing
For contract manufacturing, we provide one stop service with total solution to serve all you need commencing from formulation development, product design, packing consultation, FDA registration, Export services including related documents i.e. Free sales, GMP Certificate, Certificate of Analysis, MSDS etc. from our laboratory, Ministry of Health or other concerned institute in Thailand for smoothly importation into your country.
Please find our Products Lines and Services available as follows: -

Professional Salon Products
Hair Colouring Products
Hair Straightening Products
Hair Perming Products
Hair Treatment and Serum
Hair Coat and Setting Lotion
Shampoo and Conditioner
Hair Spray and Styling
Hair Gel and Wax

Spa and Aromatic Products
Perfume and Body Fragrance
Room Spray and Diffuser
Natural Essential Oil
Body Massage Oil
Facial Massage and Scrub
Aromatic Shampoo and Conditioner
Aromatic Hair Treatment
Aromatic Candle

Skin and Personal Care Products
Whitening / Softening Body Lotion
BB Cream and Foundation
Suncare and UV Protection
Facial Washer and Cleaner
Shower Cream and Gel
Shampoo and Conditioner
Hand and Body Cream
Body Hair Removal Cream
In order to serve your enquiry perfectly, please contact This email address is being protected from spambots. You need JavaScript enabled to view it.